➜ keebs ⌥main✔  ls -l HMKB_40.md
➜ keebs ⌥main✔  cat HMKB_40.md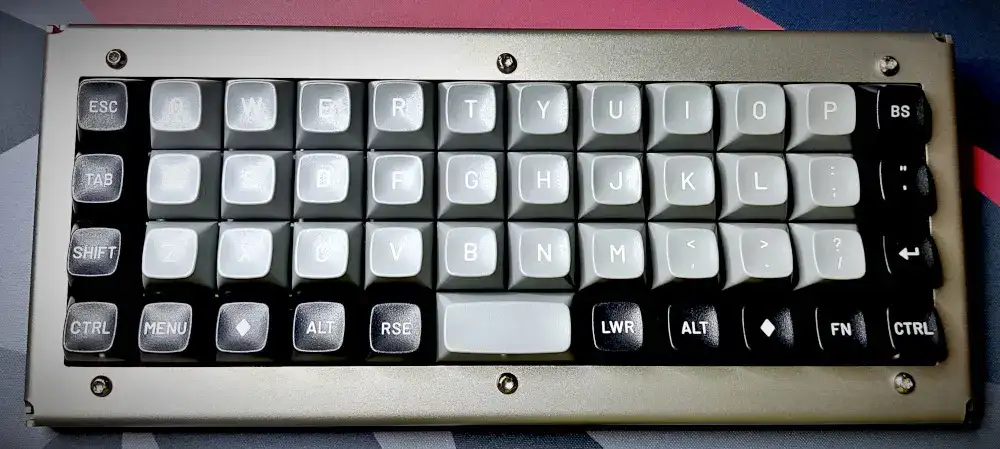 I really enjoy industrial design and heavy keyboards. While the group buy for the HMKB was running I didn't pull the trigger because I had other outstanding GBs. Luckily there were some extras left when it finally finished in 2023.
Facts⌗
| | |
| --- | --- |
| Model no. | HMKB 40 |
| Manufacturer | Heavy Metal Keyboards |
| Manufacture Date | 2023 |
| Case | Bent steel top and bottom case |
| Plate | Aluminium |
| Switches | GAZEW Boba U4 |
| Keycaps | MT3 3277 |
| Dimensions | 355 × 110 × 35 mm |
| Weight | 1000 gram |
| PCB/Software | Eon40 + QMK |
Highlights⌗
Layouts⌗
Qwertz layer⌗
Ctrl
Alt Shift
Gui
Alt
⇓
⇑
AlGr
Gui
Fn
Ctrl
The default layer is mostly german-ISO. I use some combined keys with different keys for tap and hold. The Return key is Shift on hold, the Tab key activates the function layer on hold. Esc is toggling Caps Lock on double-tap.
Function layer⌗
The function layer contains the navigation and arrow keys on the right hand. The arrow keys are directly on the homing key so they can be used by only moving my left pinky one key left.
In addition to the german "umlaute" and the delete key on backspace the shortcut ctrl-1 I use in my IDE is in a very convenient place.
Lower (blue) layer⌗
The lower layer contains the number keys in the orientation used on number pads on full-size keyboards. The 4 is on the homing-key instead of the 5 so I don't have to move the hand one key over to enter numbers.
The function keys follow the same pattern on the left hand. In addition i added the = key on this layer.
Raise (orange) layer⌗
The raise layer contains the brackets/parathesis keys on the right hand in the order of frequency I use them and the ?, | and \ keys. The top row follows the symbols as on full-sized keyboards.
Images⌗